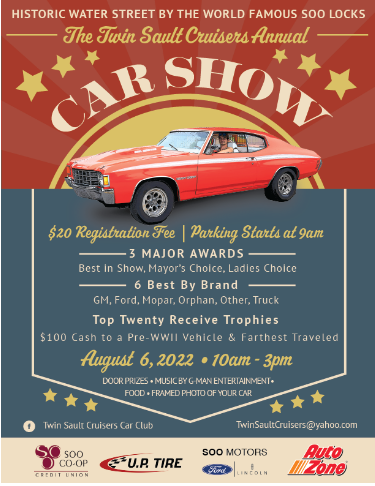 This weekend (August 6th) is the Twin Sault Cruisers Car Club's annual car show in downtown Sault Ste. Marie, MI. Over 100 cars of various types will be on display along Water Street, behind the Ojibway Hotel.
The Twin Sault's Cruisers Car Club was founded in 1975 to bring together car enthusiasts from Sault Ste. Marie, Michigan, and Ontario in celebration of a love of antique cars. There will be no restrictions on the types of cars on display at the show, but the show will feature many antique cars from various years and brands. There will also be many antique tractors and other vehicles on display at the show.
Participants and attendees will be able to vote for their favourite cars in the show. Trophies will be awarded to the winners of each category at the end of the show. Best in show, mayor's choice, lady's choice, and six best in brand for GM, Ford, Mopar, Orphan, Truck, and other categories.