Former secretary of state candidate Kristina Karamo was elected the Michigan Republican Party's new chairperson in a third and final ballot Saturday evening that truly came down to the wire as delegates rushed to cast their ballots before the contract to hold space in the Lansing Center expired.
Ms. Karamo held off a stiff challenge from former attorney general candidate Matt DePerno in the maximum of three votes from what began as a nine-person field Saturday morning and was able to emerge victorious in a final head-to-head showdown.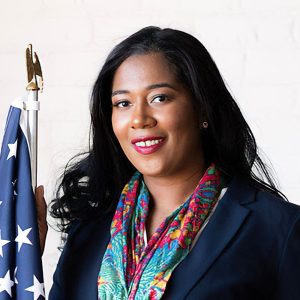 On the final ballot, Ms. Karamo took 58 percent of the vote to 42 percent for Mr. DePerno.
Taking the co-chair position alongside Ms. Karamo is former Muskegon County Commissioner Malinda Pego.
Ms. Karamo in a brief victory speech told delegates she will not fail them, nor will she and Ms. Pego go back on the promises they made to delegates during the race in efforts to reunite a fractured and cash-strapped party.
"We cannot wait to get to work … as one Michigan Republican Party, and we are going to beat the Democrats in 2024," Ms. Karamo said to boisterous cheers from a crowd of what was earlier in the day announced as about 2,600 combined delegates and alternates in attendance.
The vote was finalized just minutes before an 8 p.m. hard deadline that the state party had for use of the Lansing Center to conduct its convention, which was moved from an earlier deadline of 4 p.m. While the final votes were being tabulated, delegates were asked to help clean up signs and garbage from the convention floor to help facility staff clear the building at the end of the night.
Ms. Karamo will be tasked with leading a state GOP that finds itself at one of its lowest ebbs in decades and out from minority status following last fall's Democratic election wins that secured them a trifecta and complete control of the state for the first time in 40 years.
The Michigan GOP, which has since the 2020 elections stressed election integrity, was forced to rush its final state party chair vote in the last 80 minutes of the day's proceedings. Delegates spent three hours earlier in the day, until shortly after noon, debating rules on how to conduct voting for the day through paper, hand-counted ballots.
As the Karamo-Pego team takes the helm of the Michigan Republican Party, they take over with a party seeking to unite in the wake of big Democratic wins last fall.
They also face significant financial woes, with the GOP having struggled to raise money last cycle. Many major conservative donors opted not to donate to the party, leaving the state party in a tough spot financially and unable to compete with Democrats.
This has been a major concern among party insiders, who have fretted over top donors rebelling over the party's candidates last cycle, one of them being Ms. Karamo. There have been concerns that depending on who delegates elect chair that those problems could persist.
Last November, Democrats took both chambers of the Legislature for the first time in 40 years while sweeping the governor, attorney general and secretary of state races to hold all three statewide offices and majority status in the Legislature.
The Democratic sweep on the state level and trifecta locked the state GOP out of power for the first time in decades, with a rebuild being necessary through the newly elected chair and leadership.
Following nominating speeches for her earlier Saturday afternoon, Ms. Karamo told delegates in a fiery speech her main reason for running is for her children's future. She said the party operates "like a political mafia" and acts at times like "a private social club."
"We bring innovation, we bring truth," Ms. Karamo said, adding that the party needs to fight for election security, which is why she did not concede against Secretary of State Jocelyn Benson last November. "Why would I concede to a fraudulent process?"
Last November, Ms. Karamo lost her race by about 14 percentage points.
She vowed that under her leadership, the party would grow without compromising on its principles.
"We're going to be a political machine that strikes fear in the hearts of Democrats," Ms. Karamo said.
Ms. Karamo also spoke often and loudly about alleged 2020 election voter fraud, without proof.
She had no shortage of controversies come to light during her campaign. In October 2021, she spoke at a Las Vegas conference featuring multiple speakers who open support QAnon conspiracy theories; her campaign in a statement said she is not herself a QAnon supporter.
A 2020 podcast episode was unearthed in which she stated that some celebrities are tools of Satan, called a popular rapper a "tool of Lucifer" for peddling filthy morals into popular culture and stated that people who engage in yoga are doing a "demonic ceremony."
In a September article in the online publication Jezebel, it was stated that Ms. Karamo had an argument once while in a car with her now ex-husband and two daughters, allegedly trying to crash the vehicle after saying: "I'll kill us all." She denied the content of the report.
The day began with a much more crowded field.
Nine candidates began Saturday vying for the state party's top job: former secretary of state candidate Kristina Karamo; former attorney general candidate Matt DePerno; Tuscola County GOP chair Billy Putman; JD Glaser, an IT specialist who is involved with the Kalamazoo County Republican Party; Scott Greenlee, owner of Greenlee Consulting; Mike Firage, president of the Grand Rapids Taxpayer Association; Kent Boersema, a Ravenna Village Trustee; Scott Aughney,, former Jackson County Board of Commissioners candidate; and Drew Born, who is involved with the Kent County GOP.
A tenth candidate, Macomb County Republican Party Chair Mark Forton, dropped out of the running Saturday morning and moved to back Ms. Karamo.
Lena Epstein, a former candidate for the University of Michigan Board of Regents and U.S. House, dropped out of the running earlier in the week to join Mr. DePerno's ticket as finance chair in the event of him winning Saturday.
At the beginning of Saturday's convention, delegates took more than three hours voting period in the debate over the process of how ballots would be counted for the election of party leadership.
The fight was over what procedures would be put in place for the hand counting of ballots for the election of chair, co-chair and each vice- co-chair position.
A floor amendment was offered to provide for specific paper ballot and hand counted ballot process stated to be "in an effort to offer efficiency, consistency and confidence in the nomination and election process."
The proposed amended process called for hand counting of ballots by members of a group called Unity4MRP. It called for the counting of ballots in each congressional district within 90 minutes; be performed in front of all convention attendees; include cross-check verification throughout the process; have a visually verifiable chain of custody; allow each candidate to appoint up to 14 poll challengers to observe the counting; and have those poll challengers be randomly selected and having attended at least one training session.
The vote on the proposed amendment was 1,346-827 with 13 abstentions. This was short of the two-thirds requirement for amendments to be adopted.
A secondary amendment was raised to further amend the process of the proposed hand counting of ballots. It failed by a 562-1,620 vote.
The secondary amendment contained provisions including requiring that "each vote will be taken in alphabetical order by last name of delegate with each delegate standing."
Following the votes on the election of leadership, several delegates began to further contest the rules, arguing Robert's Rules of order violations of convention rule requiring a two-thirds vote for the amendment.
As the faction of delegates contesting the rules continued, opponents began shouting them down. The efforts of the faction contesting the rules ultimately failed, and more than three hours into the convention officers were sworn in and the main business of the day's proceedings began.
A sign of the fractures within the party came earlier when other candidates frankly admitted to the delegates that the party is in dire straits.
One pointed example of this was when Mr. Aughney spoke of his disappointment with the convention and attitude of the party faithful.
"I'm extremely disappointed with what the GOP had morphed into," Mr. Aughney said, going on to call the process "soulless."
Mr. Aughney was cut off after saying he did not have much hope for the party's future. It was pointed out that delegates and candidates need to abstain from personal attacks after drawing boos for his remarks.
He called the delegates thin-skinned from the podium before ending his speech.
Other candidates spoke of the need to unite and begin the climb out of the minority in the state, saying strong messaging and fundraising operations are needed to help rebuild the party.
Drew Born with the Kent County GOP said the party desperately needs to unite if it wants to rebound from its worst low period in decades.
"If we can't unite around our Judeo-Christian and our Republican principles and platform, we're never going to attract the young or bring over the middle," Mr. Born said.