Thirty-seven years ago I moved back to Sault Ste. Marie from the Detroit area. While having coffee with my sister one morning, I told her that my rusty old Volvo was in need of tires. Jude said there was only one place in town to go and that was U. P. Tire, an establishment I had often driven by on my way to her home. She said the owner, Charlie Brown, would not only make sure I got the best deal on the best tires I could afford, he would also treat me with dignity regardless of the junker I was driving.
I took her advice and wasn't disappointed. I don't remember if I was more impressed by the kindness in Charlie's voice as he looked at my worn out car or the care taken by the fellow who replaced the old tires. Either way, there was something special about Charlie and his employees. After living in the Detroit area for many years, I wasn't used to being treated in a thoughtful, respectful manner when I made a purchase.
Some readers will remember a young man who began working for Charlie in 1983. George Hill was a likable fellow and was the one who put new tires on my Volvo. Like Charlie, he was a pleasant man and very professional. His passing in 2020 left a void, and he is greatly missed by everyone who knew him. His brother, Scott Hill, began working for Charlie in 1987. For all those years, the Hill boys worked side-by-side and delivered the best service possible. Now Scott continues working without his best friend.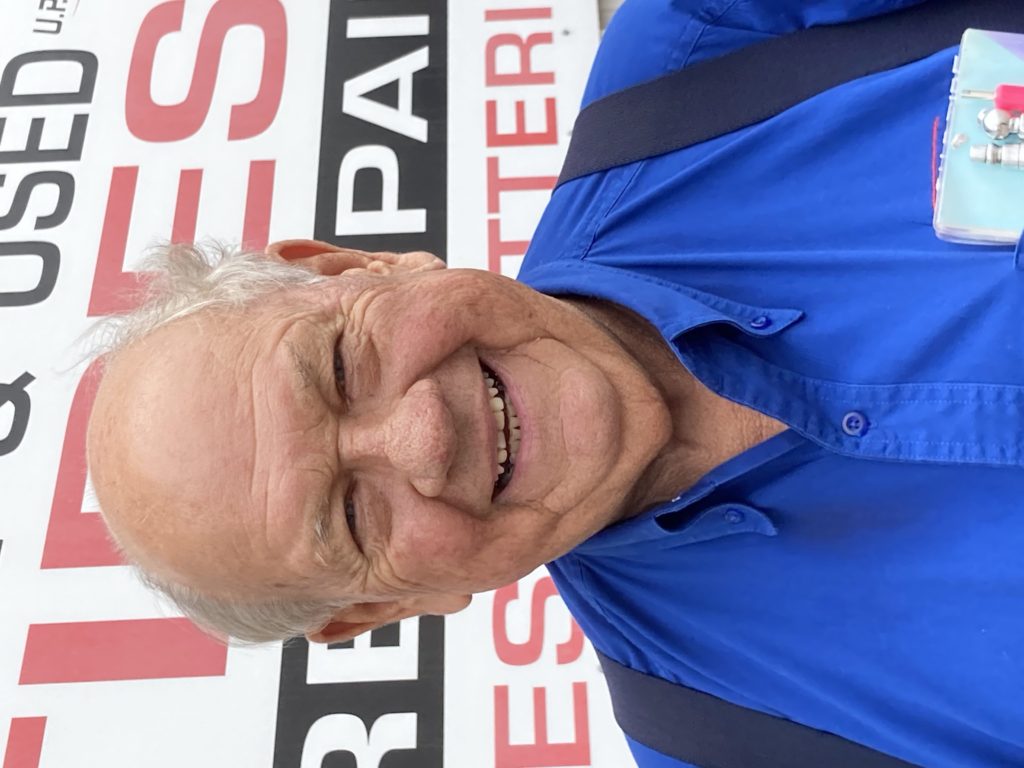 Recently I messaged Charlie's wife, Cathy, and told her I was going to submit this article. She was as gracious as Charlie, and although I couldn't see her face, I knew she was greeting me with a smile just the way her husband greets all his customers. Many years have passed since my first visit to U.P. Tire, but I have no doubt that the same warmth and honesty are still as much a part of the business as the tires are. Charlie started U.P. Tire in 1976. All those years of dealing with the public haven't changed him or his staff. The employees remain loyal and Charlie is a man anyone would be glad to call his employer.
A few years ago I wrote about the Browns for a special Valentine's Day article in the Mackinac Journal. I interviewed Cathy because we wanted to surprise Charlie when he opened the magazine and saw the feature piece. What follows is an excerpt from that interview. I think readers will find it interesting to "meet" the man behind the counter of U.P. Tire. The story of Charlie and Cathy Brown is a love story that began in 1965.
"I met Charlie when I went to a dance at the Sault Ste. Marie Armory," Cathy said. "Little did I know the handsome boy who asked me to dance would become the love of my life. I might have had an inkling, though, because he had me at, 'Would you like to dance?'
"It was his kind, gentle, patient nature and positive attitude that drew me to him. I could tell from the first few words he spoke, he was a good guy. Charlie was different from most of the boys I knew. He wasn't a show-off, a clown, or a smart aleck. He was genuine, and I always felt safe with him. He was a good sport, too, and let me cut his hair and even give him a permanent, although he did say he couldn't do a thing with his hair until it grew out and I cut off all the curls.
"Charlie grew up on the family farm on Shunk Road where he learned the value of hard work and appreciated the rewards it brings. He was a member of 4-H and showed prize winning steers at the fair. He continues to be an active supporter of 4-H clubs and is an annual bidder at the Chippewa County Fair. Many green ribbons adorn his walls in recognition of his livestock purchases. We married in 1968 and Charlie did not return to work on his family's farm. I didn't want to live there because my hair salon was in Rudyard and it made sense to remain where I was. Sometimes I've regretted that decision. Charlie had helped his dad for 20 years but told his mother on our wedding day that part of his life was over."
Before our interview ended, I asked Cathy if there was a secret to maintaining a long and successful marriage and how a couple keeps the magic alive for over 50 years. She laughed but didn't hesitate to respond. "I really don't think there's just one thing necessary for a long and happy marriage, but a combination of patience, trust, honor, and respect for each other are keys that unlock the goodness in each of us. Love is a given, but love without trust and respect isn't enough.
"Keeping the magic alive is easy. We say 'I love you' daily, and I always greet Charlie with a hug and a kiss when he comes home. We share the events of the day as we enjoy dinner together. And we continue to date. Years ago we started this tradition and have kept to it. Our date nights are Friday and Saturday. It gives us a chance to focus on each other without any other distractions."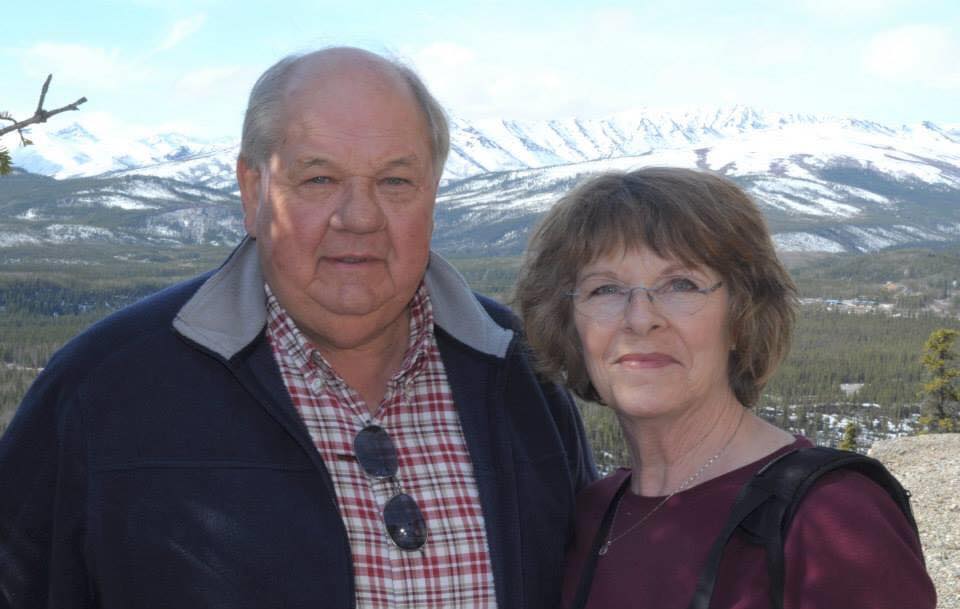 When I asked Cathy if she had any advice for newlyweds, she replied, "Making decisions together is crucial, especially when they involve money matters and raising children. When an agreement can't be reached, agree to disagree and be patient with each other. When you say you're sorry, mean it, and learn to forgive and then forgive again. Every marriage has its ups and downs. Recognize you are two different people with differing opinions and respect that. Sometimes you have to walk away and cool off when you've had an argument, then if you feel you overacted and can see your partner's point of view, apologize. There's no one definitive answer because each situation is different.
"All those years ago I promised to love, cherish, and stand by my husband in good times and in bad, in sickness and in health. The years have fled by all too quickly and we're still learning and surprising each other with things we didn't know about ourselves. That's the beauty of a sound marriage. It will bring out the best in both of you. We've tried to never take the other for granted."
As our interview concluded, one thing was obvious. The pleasant man you see every time you walk into U.P. Tire is the same man who returns home to Cathy. There's no façade with Charlie Brown. He's respected and appreciated by anyone who meets him due to his fairness in dealing with his employees and the public. His gentle manner might be due to his natural personality, but it's nourished daily by the pretty girl who fell in love with him and continues to show that love every day. When a fellow knows he's loved by the woman he cherishes, it makes life a whole lot easier.
Years ago I remember reading a Letter to the Editor in The Evening News. It was from a family who visited our area, had tire trouble, and went to U.P. Tire. As they were returning home, they had more trouble and called Charlie. He arranged assistance for the stranded motorists. That kind of service is unheard of in today's world, but for Charlie Brown, it's all part of being an honorable person.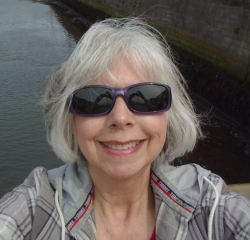 Latest posts by Sharon Kennedy
(see all)