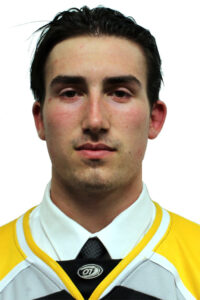 Caleb Wood is crossing back over the International Bridge from the Soo Eagles to the Soo Thunderbirds in a Northern Ontario Jr. Hockey League exchange.
Hockey News North has confirmed that the 2000 birth year forward has been dealt from the Michigan-based Eagles to the Ontario-based Thunderbirds for future considerations.
Hailing from Soo, Ontario, Wood has played the past two NOJHL seasons with the Eagles.
In total, Wood played in 111 NOJHL games for the Eagles and was a productive perfomer.
Regular season and playoffs included, Wood netted 39 goals, 35 assists, 74 games during his two terms with the Eagles.
Latest posts by Randy Russon
(see all)