Simply stated, this is a really good addition. Soo Indians of the Michigan based, Under 18 Tier 1 Hockey Federation League have brought aboard Sault Ste. Marie, Ontario product Jerry Lortie as an assistant coach.
The 50-year old Lortie has built a reputation over the years as a first-rate teaching and development coach in Sault Ste. Marie AAA and AA minor hockey circles. Known for his thoughtfulness and hockey intelligence, the low key Lortie has also scouted for teams in the Northern Ontario Jr. Hockey League and Central Canada Hockey League.
Saying he is "very excited for the opportunity" the affable Lortie joins the staff of the U18 Indians under veteran head coach John Ferroni.
Meanwhile, Indians general manager Mike Kaunisto is thrilled with the addition of Lortie to the Soo coaching staff.
"We as an organization are very happy and lucky to get a guy of Jerry's caliber to join our staff," Kaunisto relayed to Hockey News North. "Jerry's knowledge of the game and passion to teach hockey will help our team and staff grow and add stability to our program."
Lortie was highly recommended to Kaunisto by Indians goalie coach Terry Barbeau. The ageless Barbeau, who has been a goalie instructor for more than 30 years, having worked for the Soo Greyhounds and Saginaw Spirit of the Ontario Hockey League, the Lake Superior State Lakers of the Division 1, National Collegiate Athletic Association and the Soo Thunderbirds of the Northern Ontario Jr. Hockey League as well as various minor hockey programs, has a good history with Lortie.
"We are really happy to have Jerry join the Soo Indians," Barbeau told Hockey News North. "He certainly has a special knack for bringing ideas from different members of the staff including his own and forming a plan for success. I have coached with him and totally enjoyed my time with him. Jerry is very knowledgable and will bring a lot to our team."
An honest individual who is well liked and respected within the game, Lortie is a son of the late Gerry (Pops) Lortie. The elder Lortie was himself a respected hockey coach on both sides of the International Bridge. Among other teams, Pops Lortie coached with distinction for the erstwhile Northern Michigan Black Bears of the NOJHL.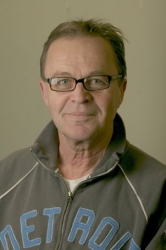 Latest posts by Randy Russon, Contributor
(see all)