A pair of local products have confirmed their planned return to the Soo Thunderbirds for the upcoming season.
They are forwards Cooper Smyl and Brock Santa Maria.
Both were rookies on a Thunderbirds team that finished in third place in the West Division of the Northern Ontario Jr. Hockey League last season.
Smyl made the jump to the junior ranks from the major midget Soo Indians of the Michigan Amateur Hockey Association and came through with 16 goals, 15 assists, 31 points in 49 games for the Thunderbirds in 2019-2020.
Smyl's 49 points were sixth best on the Thunderbirds scoring chart.
Santa Maria moved up to the Thunderbirds and the NOJHL from the Soo Jr. Greyhounds of the Great North Midget Hockey League in 2019-2020 and produced seven goals, 12 assists, 19 points in 50 games.
Both Smyl and Santa Maria have 2002 birth dates.
They return to a Thunderbirds team that will feature new leadership behind the bench.
When the Thunderbirds begin play in the 2020-2021 season it will be with a coaching staff led by former Ontario Hockey League and National Hockey League mainstay forward Denny Lambert.
The 50-year old Lambert also has eight years of OHL coaching experience as both an assistant and the head master with the Soo Greyhounds.
Lambert will be joined behind the Thunderbirds bench by a new staff of assistants that include Jeremy Stevenson, Micky Sartoretto and Aidan Wright.
Stevenson played in both the OHL and NHL. Sartoretto played three seasons in the OHL and Wright played four years of collegiate hockey with the Lake Superior State Lakers.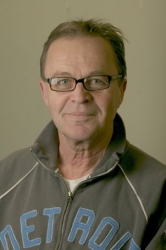 Latest posts by Randy Russon, Contributor
(see all)